Mid-America Music Festival
Thursday, July 27, through Sunday, July 30, 2023
Schedules will be emailed by approximately June 30, 2023.
NO SCHEDULE CHANGES AFTER JULY 14, 2023.
Teachers: Please return the entry forms with your entries postmarked by May 26, 2023. Complete all entry information to avoid the $10.00 penalty for late additions/corrections. DO NOT send names of pieces, etc. at a later time without including $10.00 per corrected entry.
SEE ALL DETAILS AND ENTRY FORMS HERE >>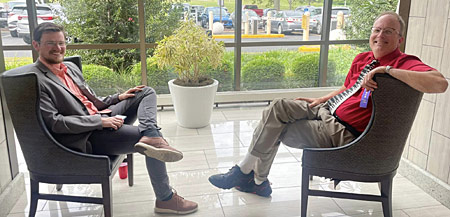 Judges take a break (2022)
SUMMARY OF 2023 SCHEDULE
Times may vary slightly due to scheduling.
Thursday, July 27 through July 30, 2023
Stoney Creek Inn - Independence
18011 Bass Pro Drive, Independence, MO 64055 ~ Phone: 816-908-9600
Thursday - Depending on number of entries, judging may begin Thursday afternoon, 1:00 p.m., for piano solos/duets.
Friday - Judging begins at 8:00 a.m.; superiors posted prior to awards ceremony
Quiz Bowl Preliminary Rounds 2:00 p.m. and after
2-Hour Pedagogy Session (for teachers) Hosted by Guest Composer, Wynn-Anne Rossi
Competitive Piano Recital 6:00 p.m. (1st & 2nd Place winners play; 3rd place winners will
play if time allows)
Awards Ceremony for Thursday & Friday Events 7:00 p.m.
Saturday - Judging begins at 8:00 a.m.; superiors posted by 9:00 p.m.
Quiz Bowl 2:00 p.m. and after
Quiz Bowl - Level III Finals - 6:00 p.m.
"Evening of the Future Stars" - 6:15 p.m.
Talent Showcase - 7:00 p.m.
Sunday - Judging begins at 8:00 a.m.; superiors posted prior to awards ceremony
Composer's Composition Masterclass 10:00 a.m.
Recital 11:00 a.m. (Outstanding Young Performers and Virtuoso)
Awards Ceremony 12:30 p.m. (for Saturday & Sunday events)
*In fairness to all who attend the awards' assembly, seats may not be reserved in quantities for studio members.
*Any contestant guilty of any damage, personal or real, to property or unruly conduct during festival will be disqualified from the festival.
* Any contestant who needs to cancel an event after scheduling will not receive a refund.
No fees returned after scheduling is complete.
REMINDER:
Do not use the Teacher and Studio Membership Application for contestant applications.